PROJECT DETAILS
Project Name: SHIBUYA HILL TOP, Tokyo, Japan
Developer: Daiichi Realter Co.,Ltd. (第一リアルター株式会社)
Address:1-32-12, 13, Dogenzaka, Shibuya-ku, Tokyo
(東京都澀谷區道玄坂1丁目32號12,13)
Apartment Size:  1K: from 266sqft
1LDK: from 426sqft
Unit Number: 25 units (13 levels)
1LDK: 12 units
1K: 13 units
Price Range: 1K from ¥49,900,000
1LDK from ¥79,500,000
Tenure: Freehold
Project Completion: December 2016
讓東京副都心成為「吸引全球目光的地區」
澀谷區和千代田區、中央區、港區、新宿區並列為「都心五區」,
在都心山手線循環行駛的JR山手線西部區,
與池袋、新宿並稱為「副都心」,是東京都內都市機能首屈一指的地區。
和惠比壽、代官山等東京代表性的文化資訊發源地比鄰,
同時也靠近六本木,絕佳的地理位置,
吸引了不同國籍的人們聚集於此,成為知名的流行時尚、音樂、藝術尖端地帶。
經過陸續推動的再開發案,發展出具有多樣化魅力的澀谷,
如今,已持續轉變成向全球散播其魅力訊息的地區。
INVESTMENT HIGHLIGHTS
• Investment Value: A good time to enter the market with Japan's present low currency state
• Asset Prices: Expected high increment in real estate price with the Tokyo's 2020 Olympics hosting.
• Location: Located in the heart of the capital city, Shibuya (澀谷), one of Tokyo's well- known commercial and residential district, and a center of youth culture and entertainment.
• There are plans of high-profile urban renewal and development projects in progress throughout the Shibuya district, including Dogenzaka (道玄坂) by 2020
• Several companies are headquartered in Shibuya, such as Casio, Campbell's Soup Japan, Virgin Atlantic Airways Japan, Tokyu Corporation and East Japan Railway Company (JR).
• Only 5 mins walk from the Shibuya railway station which is jointly operated by JR East, Keio Corporation, Tokyu Corporation, and Tokyo Metro.
• Financing Avaliable from Chang Hwa Bank and BOC.
購買程序
訂金: HKD 30,000
1. 樓價 10%  (五天內支付)
2.樓價 90% (項目落成時支付)
所需文件
1. Certified Passport / ID copies
2. Additional documents is required as verification for purchase
(call to enquire)
Name : Daiichi Realter
Authorized : Licensed by Governor of Tokyo (5) No.72146
Affiliation : National Building Lots and Building Transaction Business Guarantee Association
Established : August, 1994
Capital stock : 10 million JPY
Annual revenue : 28 billion JPY in 2014
Number of Employees : 55
CEO : Takashi NARATA
Address : Ark Mori Building 31F, 1-12- 32, Akasaka, Minato-ku,Tokyo 107-6031, JAPAN
Business : Real Estate Investment, Condominium Development, Hotel Development in Central Tokyo
Main Banks : The bank of Tokyo-Mitsubishi UFJ,Sumitomo Mitsui Banking Co., Mizuho Bank, Resona Bank
 1-32-12, 13, Dogenzaka, Shibuya-ku, Tokyo (東京都澀谷區道玄坂1丁目32號12,13)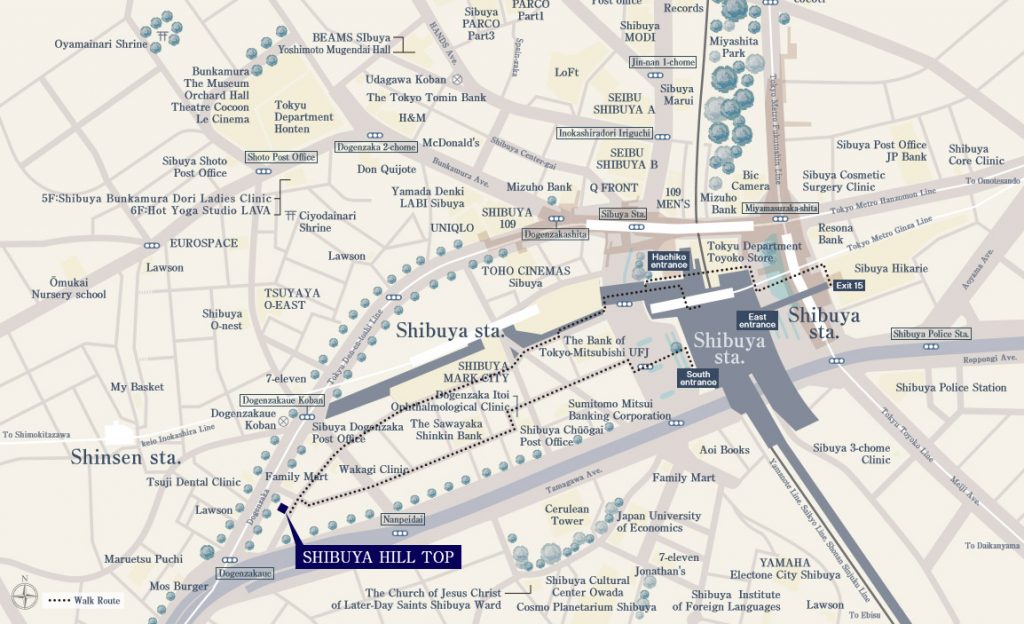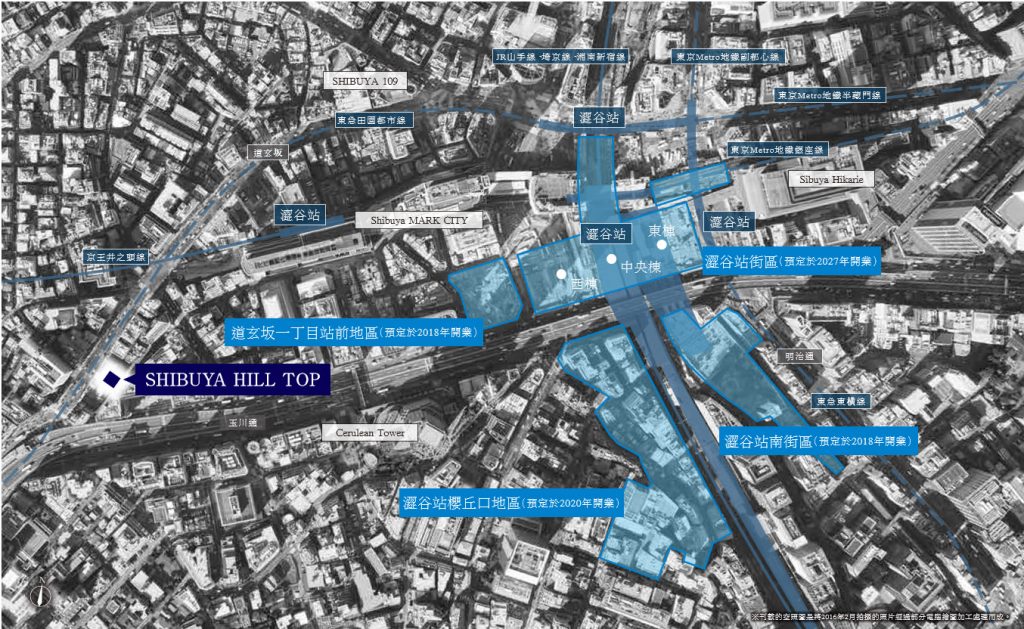 周邊建築及地標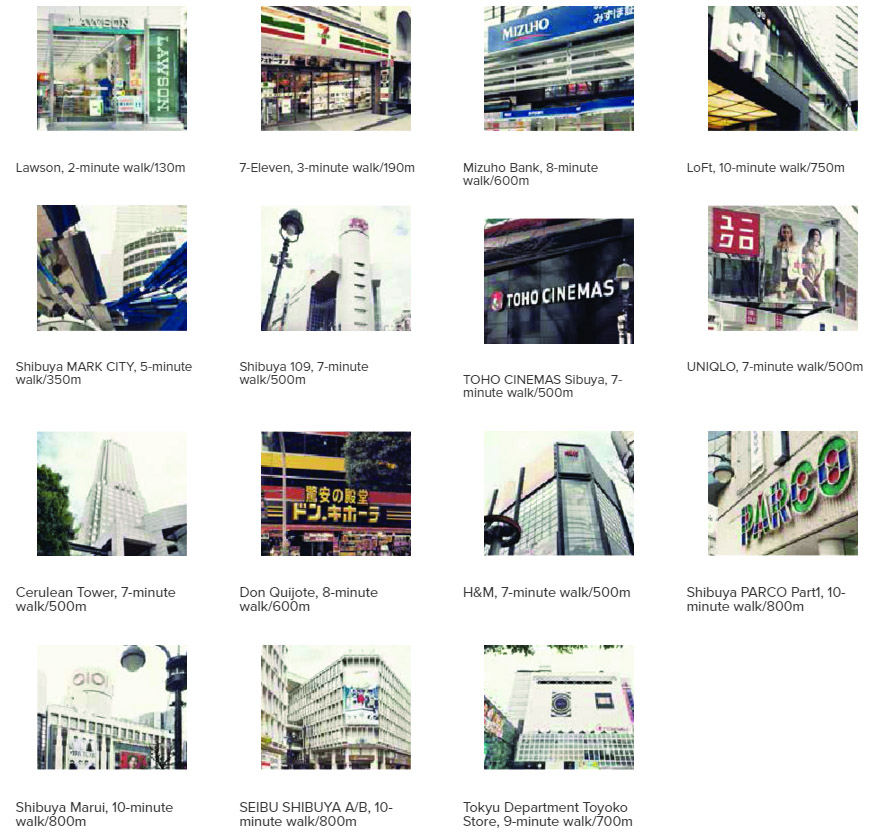 FAQ
WHY SHOULD I INVEST IN JAPAN?
1. Stable Rental Income
2. Capital Appreciation
Uptrend Economy
Uptrend Land Price
Uptrend Construction Cost
Uptrend City Population
3. Tokyo Olympic Games 2020
4. Currency Fluctuation (Buy when JPY is weak, sell when JPY is strong)
5. Politically Stable
6. Freehold
7. Foreigner/Local same rights and rules
8. High Liquidity
9. Affordable Price
CAN FOREIGNERS PURCHASE REAL ESTATE IN JAPAN?
Yes. There is no restriction on the purchase or sales of real estate in Japan by foreign investors. Permanent residency status is not required to purchase, own, or sell real estate.
CAN FOREIGN INVESTORS TAKE UP FINANCING?
In general, foreigners are not able to take a loan from a bank in Japan. To be considered for a mortgage loan, applicants must be currently residing in Japan; receiving regular income from a Japan-based company; purchasing the property for their own residence only, and, or have a Japanese spouse.
At the moment, only 2 banks in Tokyo offer loans to foreign individuals. More Singapore banks are beginning to provide Tokyo property financing.
HOW STABLE IS THE TOKYO RENTAL MARKET?
The Tokyo rental market has enjoyed long-term stability and high occupancy rates, and can be considered to be landlord-favourable. The population of Tokyo is increasing at a healthy rate and the tight incoming supply means that vacancy rates for new condominiums are less than 5% on average.
For detailed market reporting, please consult our Market Reports page.
WHAT ARE THE DIFFERENT TYPES OF PROPERTY TENURE AND OWNERSHIP?
There are two main categories of land ownership rights in Japan – freehold and leasehold.
Freehold (Shoyuken)
Shoyuken is the most common and preferred type of land ownership where the owner has absolute ownership of the land underneath the building. In Japan, land and buildings are treated separately.
Leasehold (Shakuchiken)
Land is leased for a fixed term, but leasehold is rarely found in Japan.
WHAT KIND OF INSURANCE ARE REQUIRED?
Fire insurance is optional to home and apartment owners. However, banks usually require the buyer to take out fire insurance before applying for a mortgage. Earthquake insurance is an additional option on top of fire insurance. Earthquake insurance cannot be purchased on its own – it must be added to a fire insurance plan.
The premium for a typical 20 sqm studio apartment in Central Tokyo, with fire insurance coverage up to Y3,000,000, and earthquake insurance coverage up to Y1,600,000, is approximately Y30,000 (for 10 years of fire insurance and 5 years of earthquake insurance).
地點